Image
Fusion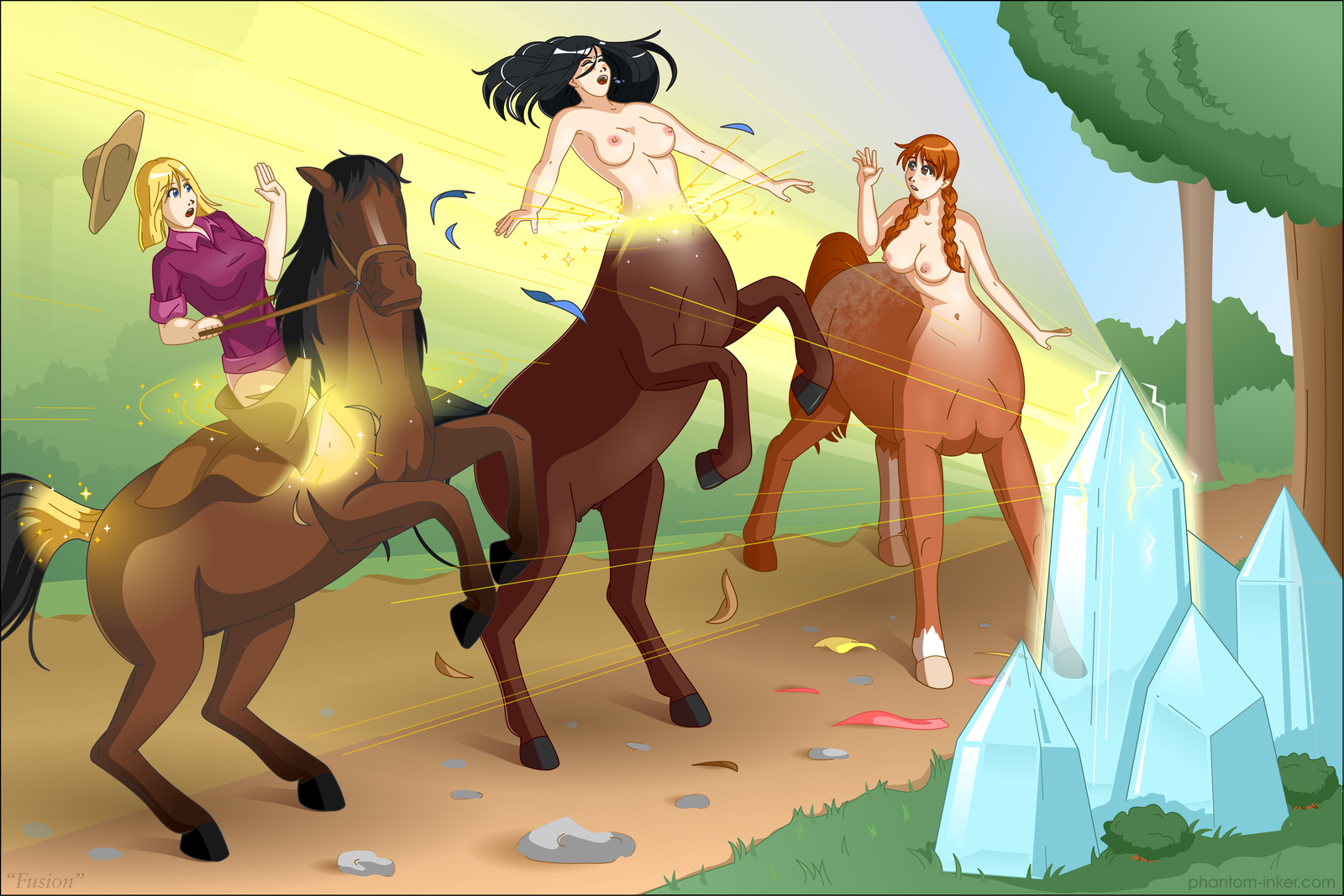 (click image to view full size)
Crystal eruptions happen in the wilds, as the great magics coalesce deep within the earth and rise to the surface as a solid mass. Most of the time, the crystals' effects are predictable: Water crystals cause floods. Lightning crystals kill everything within a furlong. Fire crystals set the nearby trees ablaze.

But there are rarer crystals that sometimes erupt: Darkness, light, and even those of dreaded chaos magics. When Arlea, her sister Crystal, and their friend Sandy were walking to market one day, they encountered a new eruption of fusion crystals, a rare kind of chaos magic thought to be responsible for the creation of all the strangest and worst monsters in the world: The bathyra, the acronyx, the aligrot — and now the three of them, permanently fused to their horses.

One day, they will be rich from their discovery, as crystals, harvested properly, are valuable and useful to mages — the rare fusion crystals doubly so. One day, they will not be the only centaurs, as the King's mages find a way to copy the spell and grow the strongest cavalry in his army, a cavalry men compete to join. One day, this will be over, and they will not be seen by others as ruined freaks, and it will seem normal to them to have hooves where maidenly feet ought to be.

But today is not that day. Today is merely a beginning, an unpleasant beginning, but a beginning nonetheless.
I've been working on this one for a while. I drew the lineart nearly four months ago, and have been working off-and-on on this since. I finally finished it today, phwew!
This is 100% vector art, entirely done with CorelDRAW and a mouse, over maybe fifty or sixty hours or something. I spent a lot of time playing with the new transparency tools in CorelDRAW to make this, and I think it paid off.
Hope you all like it, and if you do, please comment! :)