Image
The Wish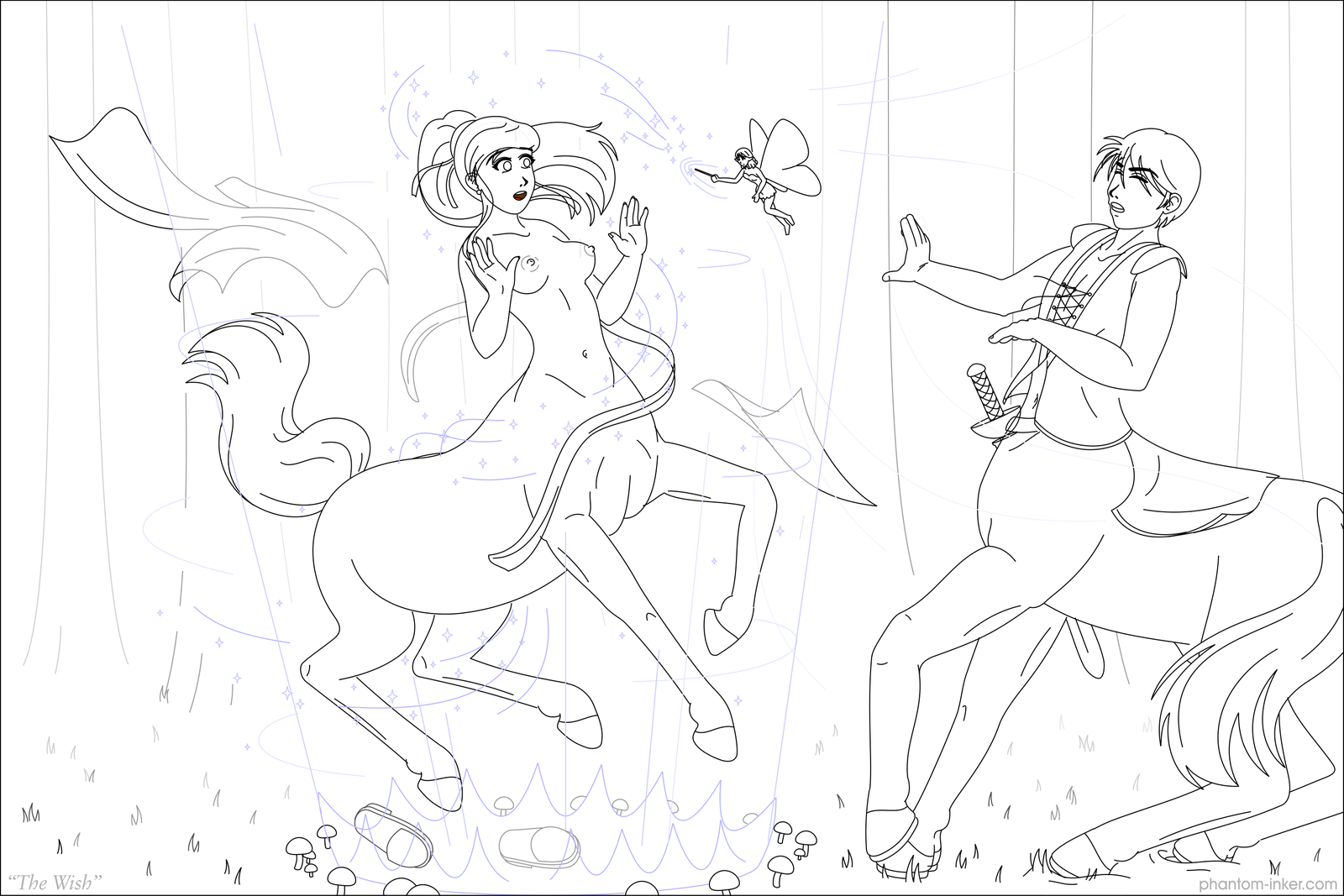 (click image to view full size)
Emma had known Jim nearly her entire life. It was taboo, of course, but the little girl had met the centaur boy in the forest when she was far too young to know that humans and centaurs did not get along. She would sneak away in the late afternoons to play with the "horsey boy," and they soon became fast friends. Yet the afternoons always ended, and Emma would have to sneak back to her village, bidding farewell to her "horsey boy."

But everyone grows older, and when they came of age, Emma fell in love with the "horsey boy." Now she had other reasons to want to be with him, even if he did not realize that she had them. But their peoples remained at an uneasy truce, and even were they on good terms, it surely would still have been taboo for her to desire him.

But the faeries deep in the forest, they could help: They liked causing mischief. And after Emma found them, she presented them with a wonderful opportunity for mischief. And so on that fateful day, when Emma and Jim went riding together like they always did, Jim had no idea that they were headed to a faerie ring; that in a moment after they would arrive, the faerie would cast her spell; that before his very eyes Emma would gently alight on her own four hooves; that she would smile at him; and that she would ask him if after years of waiting, whether their happy afternoon together this time might finally have no end.
So I've been working on this for a long, long time. I started it back in May 2012, and have done bits and pieces of it on-and-off for the last seven months, an hour here, a half-hour there. It's all CorelDRAW, all vector art with a mouse, and goodness knows how many hours.
I drew Emma first, and she came out amazingly good, and she was the impetus to keep working on the rest of the picture. Jim, the faerie, the background, the mushrooms, the sparkles — those all existed to be able to support Emma. I had her story in my head from the start, and I think the picture matches it well.
Someday, perhaps, I will color this. My wife loves the picture, and I do too. In the interim, the lineart is finished, and I think it turned out well.
So enjoy, and feel free to comment!